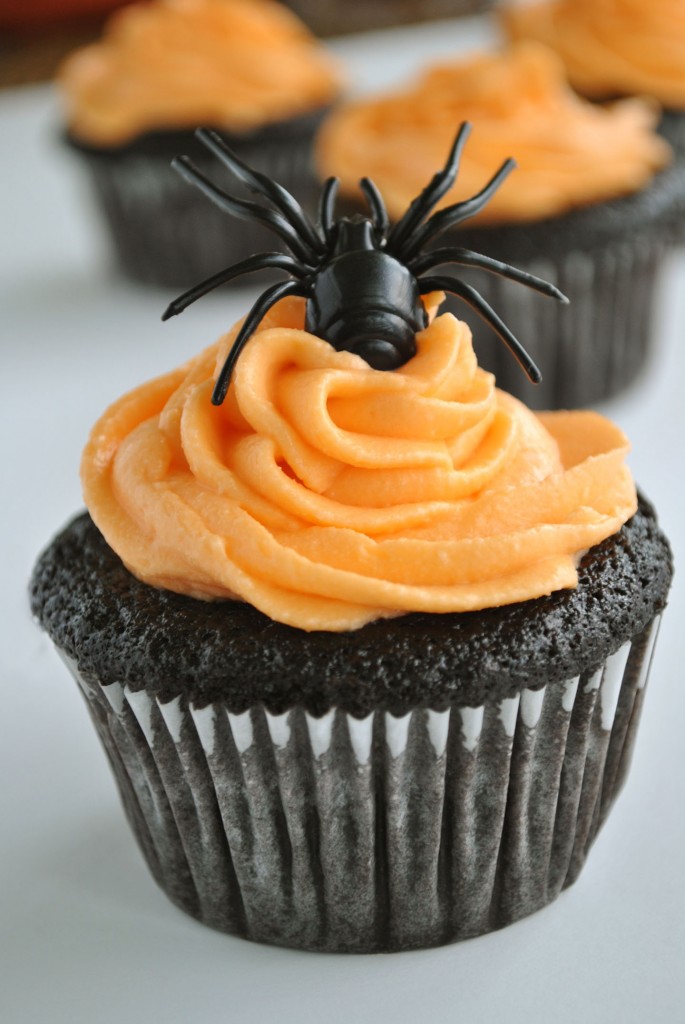 Who said only kids can have fun on Halloween? Halloween is the only day where we can wear a skimpy outfit and strut down the street, right? I made these adult only chocolate cupcake (coffee in there- so don't feed these to your kids) with mascarpone frosting (Baileys in there-so don't feed these to your kids either). We are off to go have some grown up trick or treating. Yippee. Happy Halloween!
Ingredients
For cake:
1 cups all purpose flour
1 cups sugar
6 tablespoon good cocoa powder
1 teaspoons baking soda
1/2 teaspoon baking powder
1/2 teaspoon salt
1/2 cup buttermilk, shaken
1/4 cup vegetable oil
1 large egg, at room temperature
1/2 teaspoon pure vanilla extract
1/2 cup freshly brewed hot coffee
For frosting:
3 ounces cream cheese room temperature
6 tablespoons (3/4 stick) butter, room temperature
1/3 cup mascarpone cheese, room temperature
3 tablespoons powered sugar
1 teaspoon baileys
Food coloring if you want
Preparation
For cake:

1. Mix dry ingredients together in a bowl.
2. Mix wet ingredients together in another bowl. (Except for coffee)
3. Slowly add wet ingredients to dry ingredients.
4. Add coffee and stir to just combine. (Yup, you don't need a mixer!)

5. The batter will look very thin and you will think that you did something wrong…But you didn't! It is supposed to be this thin. Trust me, the cupcake will turn out super moist this way. We no like dry cupcakes!

6. Pour into a pan and bake at 350'C 15 mins till center comes out clean. (I pour 3 mini cookie scoop per one muffin cup)
Frosting:
1. Using an electric mixer, beat the cream cheese and butter in a large bowl until light and fluffy. Beat in the  mascarpone cheese and then beat in powdered sugar and baileys. (Add food coloring if you want)
(I went too crazy with the booze and food coloring which thinned out the frosting, so I added a little bit more of cream cheese and powdered sugar. See? don't panic…..although I actually did….)
The orange food coloring and decoration make these 'theme' cupcakes. Feel free to omit food coloring and just enjoy them as it is.