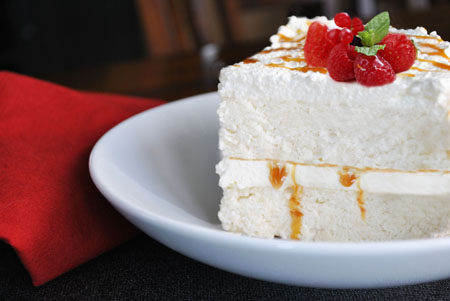 I had this most divine angel food cake at a wedding cake shop in La Jolla one time. (It was $10 a piece! $$$) and since then I have been looking for that perfect angel food cake – 'heavenly' fluffy and moist. I have been looking and experimenting…and then I found this recipe in Italian…oh crap.
With the help of 'google translate' and 'measure conversion chart', I finally made my perfect angel food cake that was good enough to feed angels. I frosted it with white chocolate cream and drizzled some cameral sauce over. But you can just put simple whipped cream with strawberries. That sounds so delightful, doesn't it?
Ingredients
12 egg whites (room temperature about 60'F)
Pinch of salt
1 1/2 cup sugar
1 1/2 teaspoon cream of tartar
1 teaspoon vanilla extract
1 1/4 cup flour
Preparation

1. In a food processor spin sugar about 2 minutes until it is superfine.
2. Make sure your egg whites are room temperature. To speed up this step, set the mixer bowl in a bowl of lukewarm water and stir the whites occasionally till it warms up to 60'F

3. Beat the egg whites on medium-low speed until the mixture is quite frothy and has increased a little in volume. Add cream of tartar (It stabilizes the egg foam) and vanilla extract. Beat again till egg whites thickens till stiff peak. (Make sure the mixing bowl is free of any oil residue. In doubt, wipe the bowl with tiny bit of vinegar-that will take  care of it! )
4. Mix flour, salt and sugar in a bowl. Using a sifter, dust into top of foam little by little. Fold it in with spatula. (Make sure to 'fold' it in GENTLY. Don't kill the volume.) Continue until all of the flour mixture is incorporated.
5. Cut out parchment paper into the size of the bottom of cake pan. Spray one side with cooking oil so it sticks to the pan. Line the pan with the cut-out parchment. You can also do the same thing along the side. (Make it higher than the pan so it holds the cake as it rises.)

6.Carefully spoon mixture into an 'ungreased' tube pan. (I just used a regular deep round pan. Tube pan is supposed to keep the volume of the angel food cake…but I always thought 'tube' shape looks kind of funny …:) )

7. Bake at 320'F for 35 mins or till a cake tester inserted in center comes out clean.

8. Cool the cake upside down.
:: White chocolate frosting ::
Ingrediens
2 ounces good-quality white chocolat chopped
2 tablespoons plus 1/2 cup chilled whipping cream
Preparation
Combine chopped white chocolate and 2 tablespoons whipping cream in small metal bowl. Set over small saucepan of simmering water and stir until white chocolate melts and mixture is smooth. Remove bowl from over water. Cool white chocolate mixture 10 minutes. Beat remaining 1/2 cup chilled whipping cream in medium bowl until soft peaks form. Whisk in white chocolate mixture. (Can be prepared 1 day ahead. Cover and refrigerate.)
:: Caramel Sauce ::
Ingredients
1 cup  sugar
1 Tablespoon water
6 Tablespoon butter1/2 cup heavy whipping cream
Preparation
1. Heat sugar (Pour in 1 Tablespoon around the egde of the pan) on moderately high heat. As the sugar begins to melt, stir vigorously with a whisk or wooden spoon. As soon as the sugar comes to a boil, stop stirring.
2. When sugar liquid turn to amber color, stir in butter and whisk again.3. Once the butter has melted, take the pan off the heat and add the cream. Whisk again and cool it down.