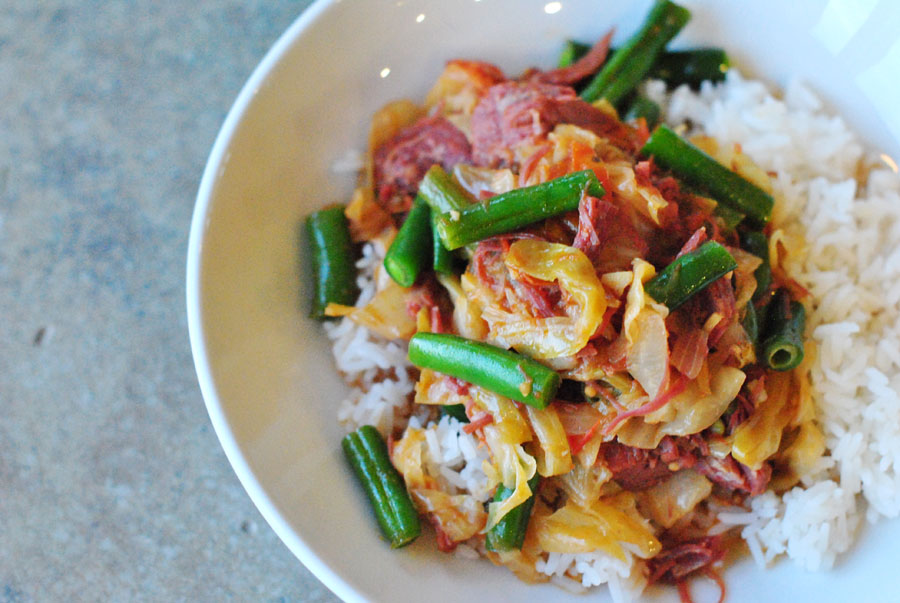 Hello~~!! I'm back!! It's been a while since I post. I know….Life got super hectic and I've been focusing on my column on a local newspaper…..nah, I was just straight up too lazy to do all the work to blog. To be honest, I even forgot the password to log on…ok, you can punch me in the face.
Well, the good news is that I 'accumulated' whole lot of easy recipes I want to share with you all. Ha! You love me again?
Nothing complicated, something you can cook with your eyes closed. Yes, the magic of one-pot-wonder.
This recipe belongs to an amazing woman I met in Tahiti, Anne-Marie who hosted me and other fellow 5 foreign dancers to participate their biggest culture event/competition called 'Heiva i Tahiti' last summer. The woman I look up to- quiet, strong and has a heart bigger than the pacific ocean. Thanks to her, we were fed with delicious home made meal everyday and well taken care of. This corned beef and cabbage stew was my favorite dish of her….I loved it so much, she made it on my last dady in Tahiti for me. I don't think I can make it as good as hers but I think of her whenever I make it. Miss you Anne-Marie!
Ingredients
1 lb corned beef, shredded
1 onion, sliced
1 Tbs ginger, grated
1 clove garlic, minced
3 tomatoes chopped
Half cabbage sliced and washed.
2 Tbs Soy sauce
1 Tbs Oyster sauce
1/2 cup water
Salt and pepper
(Optional : Sprinkles of mustard powder(or 1 teaspoon of Dijon mustard) and paprika and also I added 1 teaspoon of ghee)
Preparation
1. Heat olive oil, cook onions till soft.
2. Add garlic and ginger. Cook till fragrant.
3. Add chopped tomatoes and cook till all the ingredients get nice and pasty.
4. Add cabbage and cover the pot.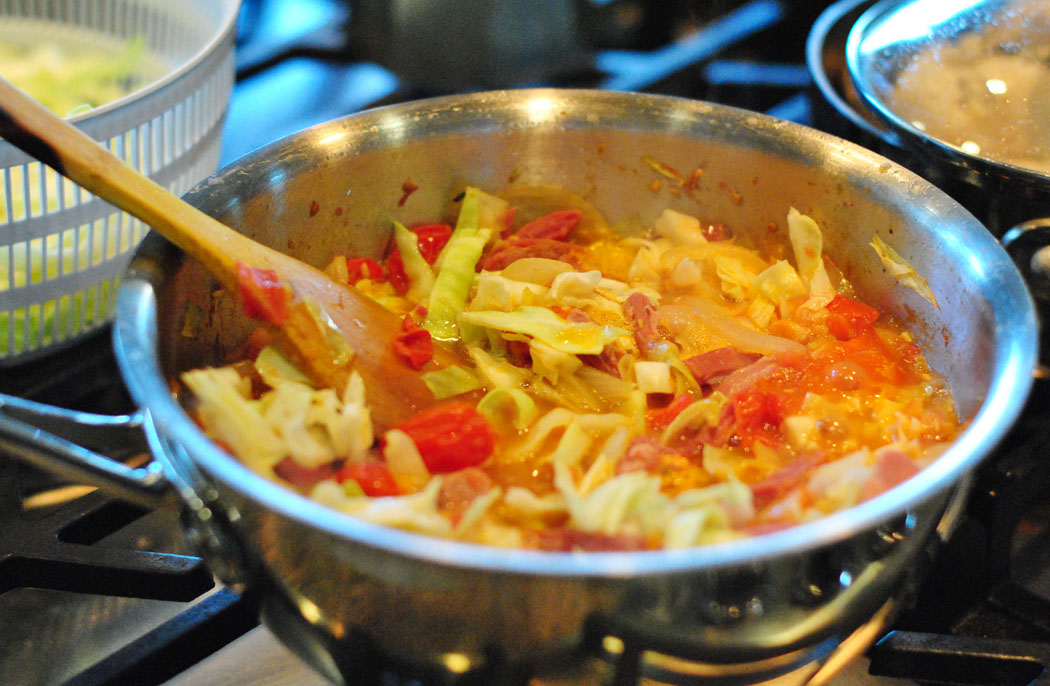 5. Add soy sauce, oyster sauce and water.
6. Add shredded corned beef.
7. On low heat, simmer till stew becomes thick.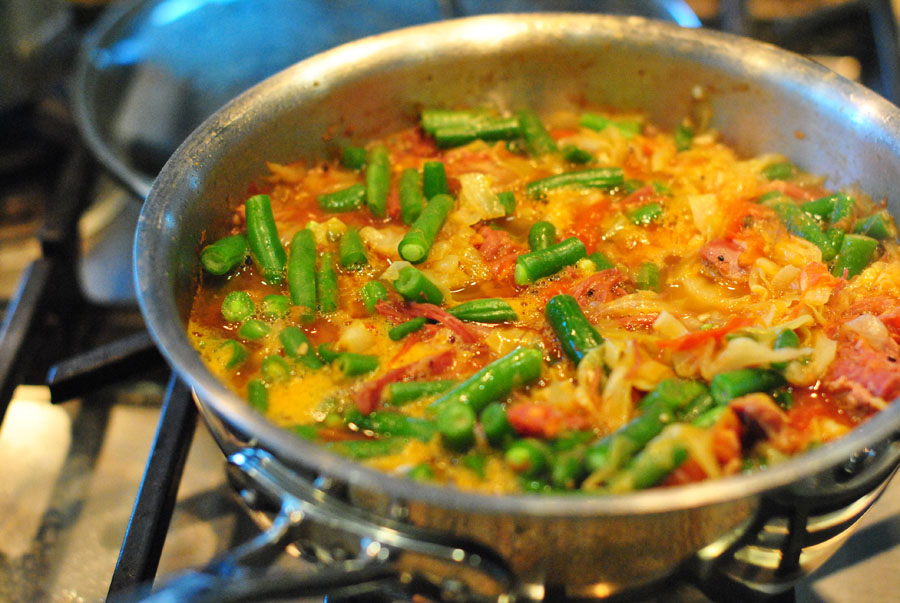 8. Salt and pepper to taste. You can sprinkles with some mustard powder(or  1 teaspoon of Dijon mustard) and paprika- I also added 1 tsp of ghee just because I had it and I like it's intense buttery taste.)
9. Taste as you go. Adjust amount of soy sauce and oyster sauce till……er…..it makes sense.
10. Add chopped green beans.
11. Serve with white rice. Yes, white rice…