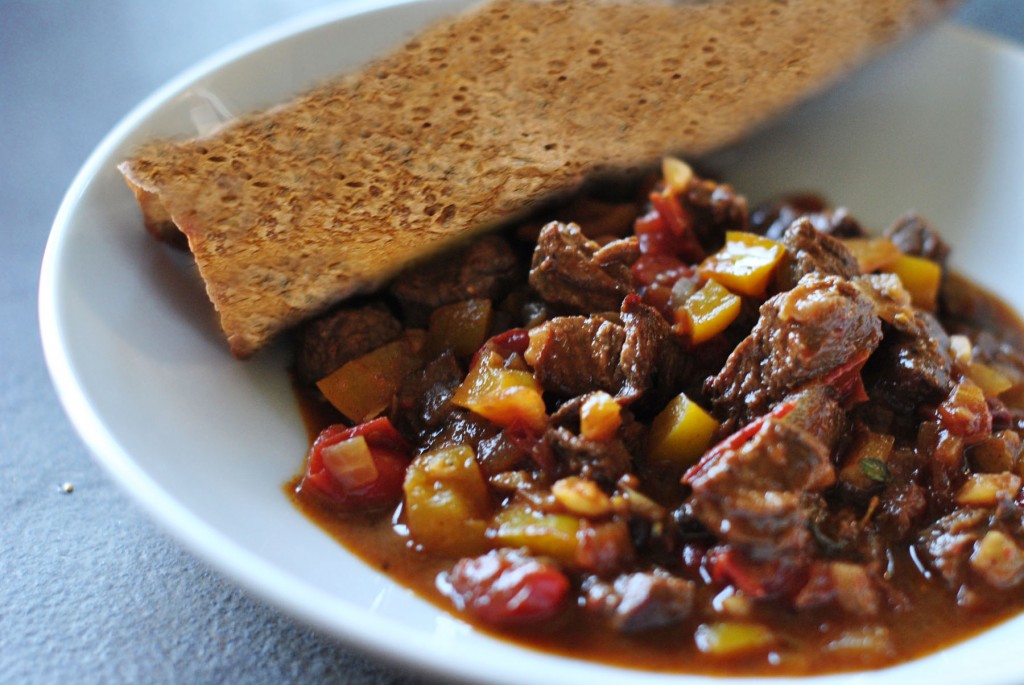 My husband sometimes makes fun of me saying I'm a Korean girl who loves country music, does Bollywood, Tahitian and West African dance, who is married to a white boy. He says I don't make sense….but I say I'm a 'worldly' woman.
I sure got this free spirit  from my dad who is a surgeon, who traveled all around the world after his medical school. He is in his 70's but there is a no sign of slowing down. He just got back from Cambodia where he treated local folks who didn't have opportunities to see a doctor. He is my hero.
I love ethnic food- I remember when I lived in San Francisco, going to a Ethiopian Restaurant and just loving their food -family style stew and their tangy crepe. It was amazing. Now I live in somewhat 'less culturally rich' town, Santa Barbara, I try to make as much ethnic food as I can at home.
You can make this delicious stew with any kind of protein. I used Bison because it's healthier meat. (70% to 90% less fat compared to beef,  it has 50% less cholesterol. And on top of that, it is higher in protein, iron and all the omega and amino acids.) but you can use chicken, beef, lentils or chick peas. It is served with crepe called 'Injera' which is made with again super- healthy Teff flour. (You ferment overnight)
I'm sure it's nothing like that ones made from a local, that Anthony Bourdain (lucky bastard I call)  would eat on his 'Location', but  it sure brings an excitement to our dinner table. I get bored of same food easily- I like different & unfamiliar taste. So ditch your regular Italian, Chinese recipes for a day and go for this new adventure.
Ingredients
1 lb meat of your choice (I got Bison at Whole Food Market. The Butcher recommended me Bison shoulder for stew which was soooo much less $$ than Bison steak meat.)
Half onion (Diced)
1 clove garlic (Minced)
1 teaspoon ginger (Grated)
Berbere spice (I ordered on-line. Basically it's a mixture of ground cardamom, coriander, fenugreek, nutmeg, cloves, allspice, cinnamon, paprika, turmeric, cayenne and I use it all the time. I even add to my curry dishes)
1 teaspoon Ajwain seeds (Also ordered on-line. If you don't have it, you can skip this)
2 teaspoon dijon mustard
1 cup diced tomato
1 teaspoon paprika
1/2 cup of dry red wine
1 cup stock of your choice (I used my favorite mushroom stock)
Diced yellow pepper
Salt & Pepper to taste
Olive oil and some butter
For Injera (Teff flour crepe)
1 cup Teff flour, 1 teaspoon yeast, 1 cup warm water (more will needed later), salt, 1 Tablespoon plain yogurt
Preparation
1. Mix Teff flour, warm water and yeast in a bowl, mix well. Cover with plastic wrap and place it in a warm or room temperature overnight to ferment. (salt is added later, Salt interferes with fermentation-I got an 'A' in Bread-Making Class for nothing..:))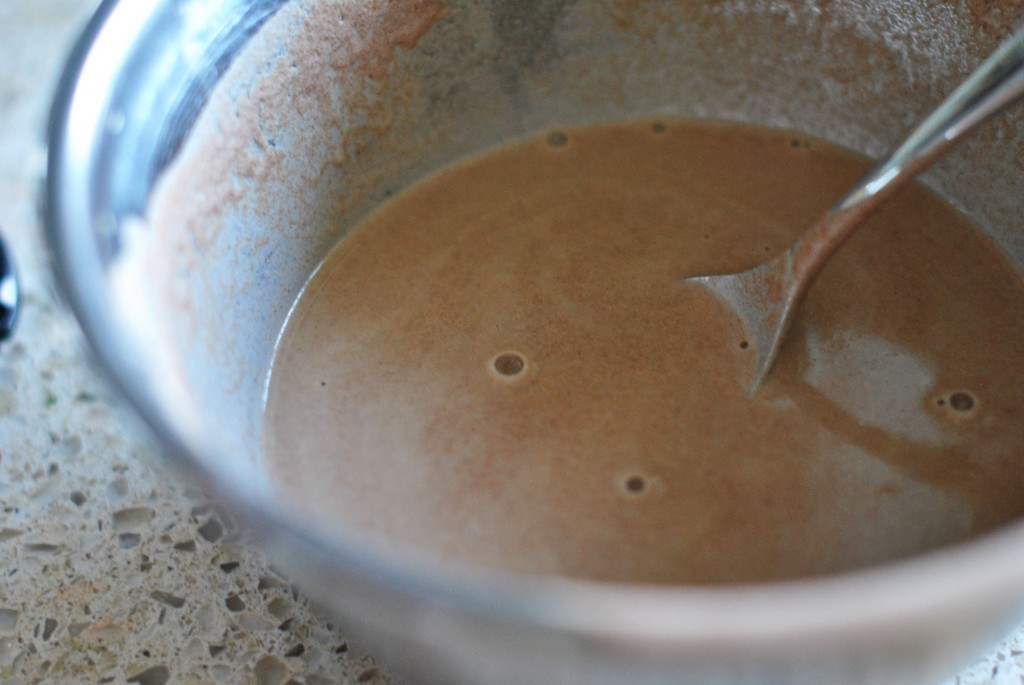 2. Pat dry and salt + pepper the meat.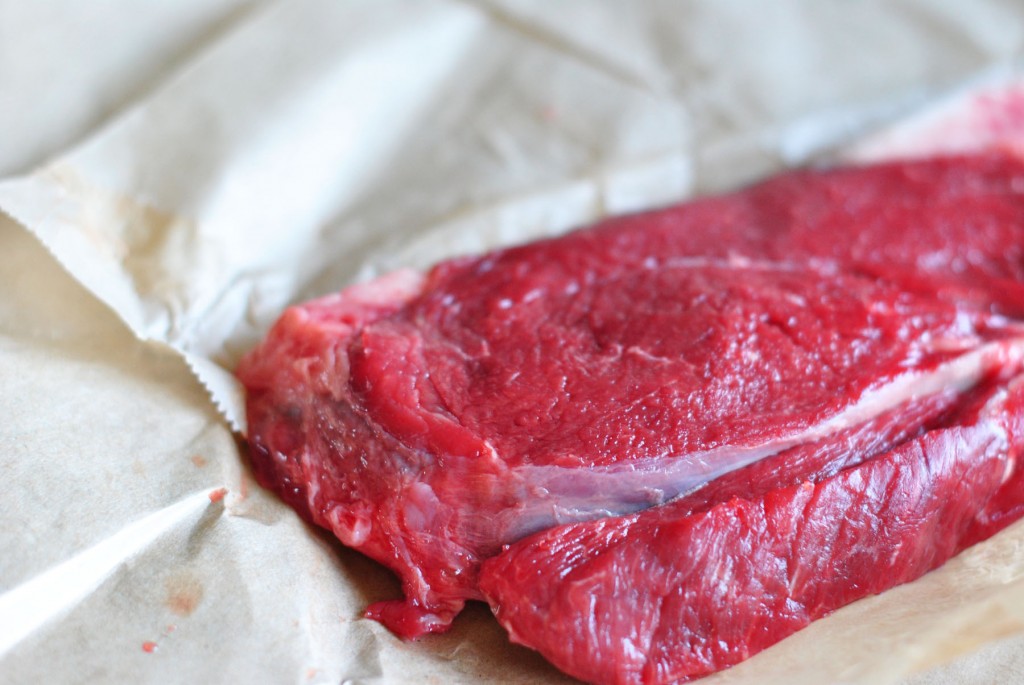 3. Heat oil and butter in a heavy bottom pan or cast iron pan. (Butter will help brown the meat which will make the sauce thick and flavorful). Brown the meat both side. Then take the meat out and put aside.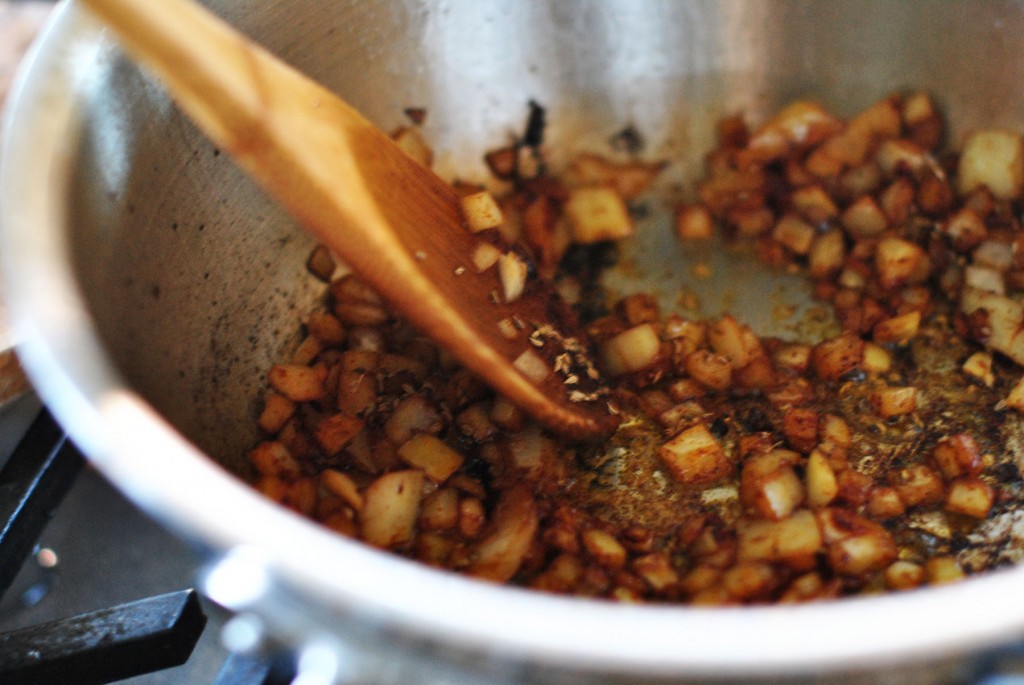 4. In a same pan, cook onion till soft. Add spices, garlic and ginger and cook them till fragrant.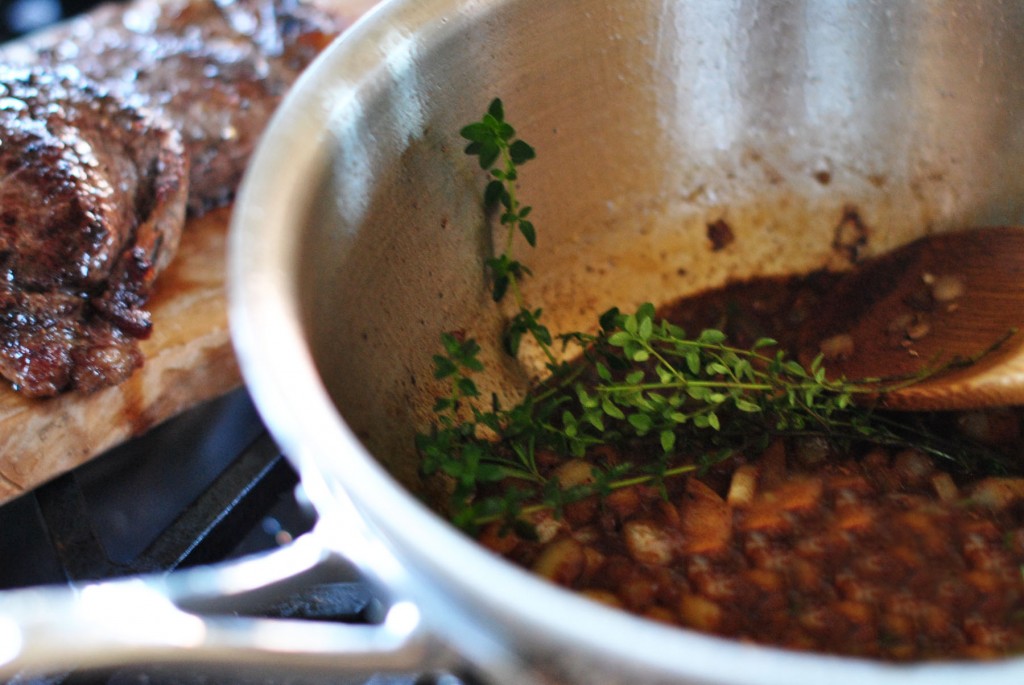 5. Add red wine to take off brown bits. Then add diced tomatoes, mustard and  stock. (You can add some thyme but no need if you don't have. Berbere has enough flavor. )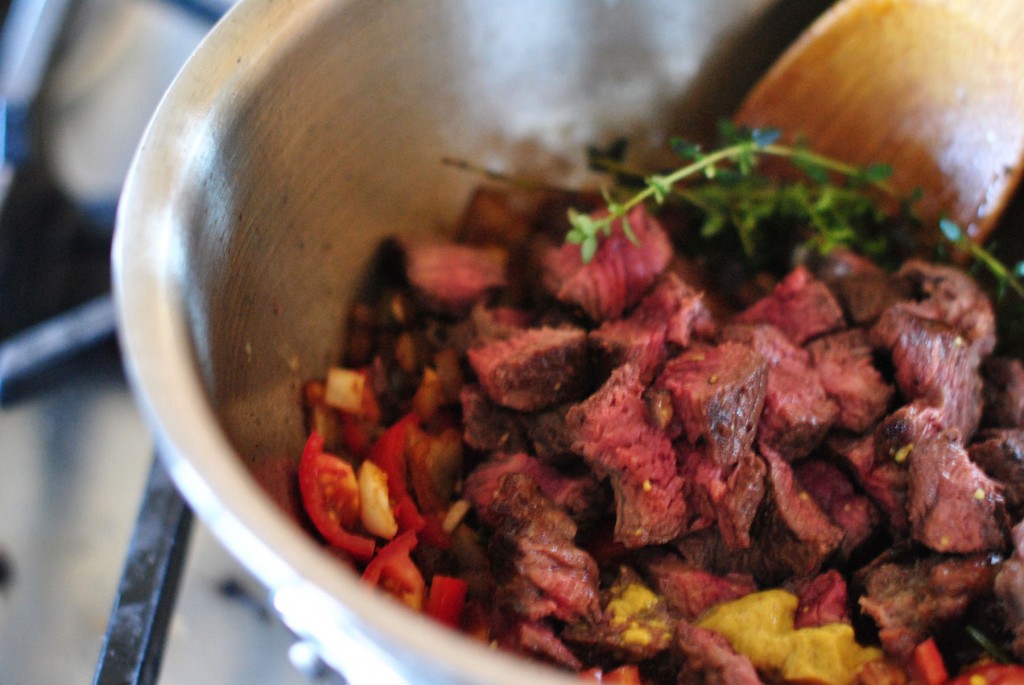 6. Chopped the meat into bite sizes and add it back to the stew. Then add diced yellow peppers.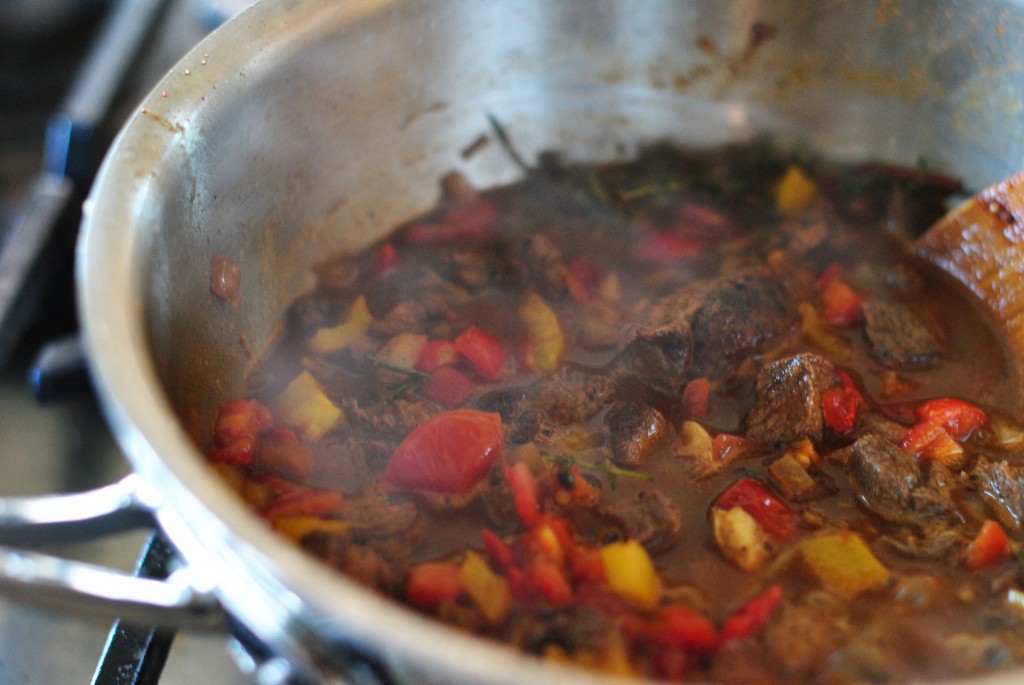 7. Simmer on low heat till stew thickens up.
Making Injera :
Add salt and yogurt to a fermented Teff flour batter. Heat non stick pan (or crepe pan) – low heat. Place thin layer of the batter and wait till surface bubbles up then flip. Cook a little more till done. I think it tastes better when they are cold. It took me 8 attempts to get it right so be patient, keep practicing. 🙂 My dogs were happy for the scraps.