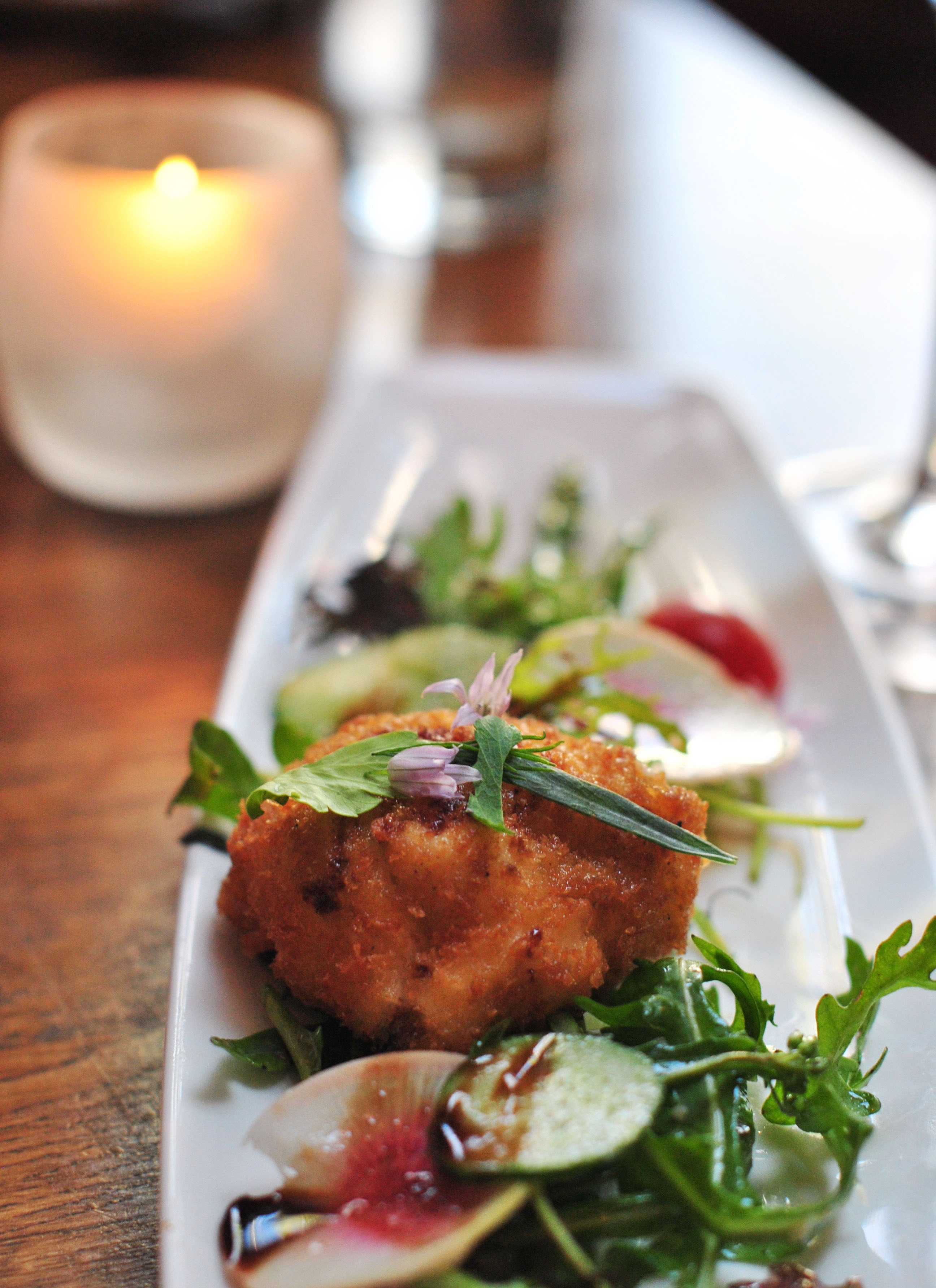 June 28 2013 Santa Barbara Sentinel 
'Food File by Christina Enoch'
The kitchen at Arlington Tavern holds a special place in my heart. It was the first professional kitchen I ever worked at – my very first culinary internship. Back then it was Epiphany with Executive Chef, Erik Thurman who taught me so much. The familiar wall of Victoria street, side door where I used to go in with my knife kit all flushed out of nervousness, the open kitchen, the bar where we used to drink beer after hours. As much as I was nostalgic from all the memories, I was so excited to go in. I heard a lot of good things about the new ownership, new chef and their food and couldn't wait to try.
I walk in, the bar is already crowded and it's Monday. It's a school night, people! I guess this is a new hot spot where all the cool people hang out after work.
Pass the bar, into the 'Dining' area, we were greeted by the co-owner, Diego Barbieri with his most charming smile. He must be a brazilian.
Through the open kitchen, I see a few familiar faces. Chef/owner Ron True and my culinary class mates, Adam Measurall who I thought was the best in the class. I recognized the chef right away because he is in my facebook. He doesn't know I'm 'stalking' him…."I see you all the time at farmers' market too, you know…..". Ok, I admit it, I am a chef groupie.  Another big most welcoming smile by Chef Ron. What's wrong with this place? Why everybody so happy?
Dining room is upscale but not pretentious. My kind of place. It's a quieter section if you want to get away from your annoying drunk friends at the bar.
Their food is sexy and they know it.
Ok, where do I start about their food. When I have an absolutely amazing meal at dinner, I still dream of it the next morning. (I call it food orgasm) Yes, I'm still dreaming and thinking about the food I had there last night. There were a lot of gasping, moaning or 'Shit, this is good!'
Let me start with their ceasar salad. Roots Farm little gem romaine lettuce perfected dressed in anchovy garlic parmesan dressing. I can eat 2 more bowls of this…every day… for the rest of my life. Hands down, the best ceasar salad I ever had. So good that Caesar Cardini would bow his hat off to.
Fillet mignon carpaccio is served with wild arugula sherry shallot truffled vinaigrette and we paired it with wintestree 'chainsaw' pinot noir from oregon. It was a party in the mouth.
And there it is, AT's famous mac & cheese. It's one of the menu items inherited from Epiphany. I remember making it back in the Epiphany days, but this one is way more 'superior' species. He uses Fusilli lunghi for more bites and texture, gruyere cheese for lasting flavor, and oh yes, shaved truffle. Mac and Cheese this good should be illegal. Me and my friend, Susan was fighting over it. Have you seen two ladies fighting over Mac and Cheese? And we had no shame.
Black cod is served with roasted trumpet mushrooms and brussel leaves & mustard butter.  And it literally melts in your mouth. Beef stroganoff is flying out from the kitchen window as we enjoy one of their popular dishes, fried chicken. What is it about Chef Ron, that makes even fried chicken sexy? I don't know if it's because I just watched 'Magic Mike', watching these four guys  through the open kitchen, cooking all these delectable dishes for me makes me feel like a very special guest in a very special 'show'.
Don't want to sit down and have formal dinner? No problem. They have ridiculously comforting bar menu. Kobe beef hotdog in house made bun and crispy pork belly is one of many favorites of happy hour goer or late night crowd. (10pm-12am)
Now it's about time you would think, maybe they will mess up on dessert….nice try. Nope. Their desserts are off the chart…as good as, actually even better than desserts at 5 stars hotel. Try their strawberry upside down  cake, you will turn upside down.
At one point,  Chef Ron asked us 'Are you ok?' Because our eyes kept rolling back eating all these exquisite plates of happiness. We were indeed in a 'pleasure town'.
From the Scratch kind of guy
Chef Ron grew up in Santa Barbara and started off his career at soho with Chef, Nancy Weiss. It was the same building that now houses his own restaurant. After years of working at some of the best restaurants in NYC, San francisco and France, Chef Ron decide to return to the building he left. Welcome home, Chef. Welcome home!
Chef Ron religiously shops at Farmer's market twice a week and is committed to find local, sustainable, best quality ingredients possible. He is the first person who shows up when the market opens. He said. "At AT, food comes in quality and goes out in quality." "Every asparagus has it's story behind it".  You will truly see the quality of each ingredients when you taste his food. And he is big on making everything from the scratch. "I am a From-the-Scratch-kind-of guy". he said. They even makes their own ketchup and mustards. He would be a good person to end up on a deserted island.
Food File Fun Facts
It's patio season! Check out their daily happy hour from 4-7pm. Can't beat $3 beer and $5 wine at their cozy patio on a summer night.
Happy hour gone late hour? Cruise down there for late night munchies. Kobe beef hot dog in house made bun is the best when your tummy needs a little something to soak up the 'beverages' you drank. Have you heard of watermelon beer? Watermelon what? Well, you'd better get down there now. Sign up for their newsletter for upcoming fun events, friend them in facebook and follow their instagram. I'm telling you, they are worth clicking  'LIKE'!