Santa Barbara Sentinel Issue 29 August 2 2013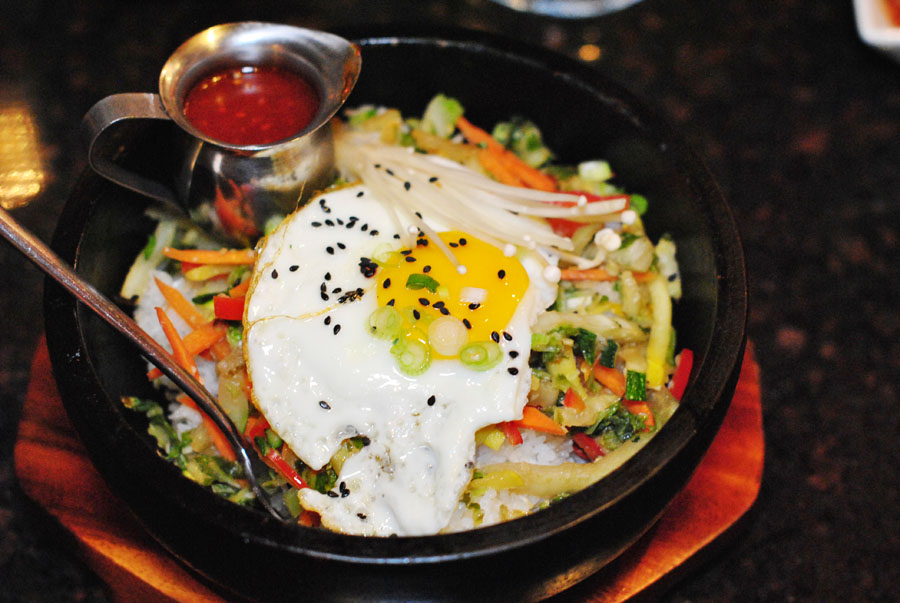 Bringing Gangnam Style in town
When I feel homesick and want Korean food, I go to Korea Town in LA. I have to fight some traffic but I get my hair done in K-town too so hey, it's all worth while. As much as I enjoy going down to LA, I always wished I could get some good Korean food close-by in town.
And then I see this sign 'iGrill Korean BBQ' on upper state street. Yippee. I waited patiently till it opened. Please be somewhat close to authentic Korean….then I hear the owner is a Chineses…say wwhat?!? But hey, it's ok. I will give it a try.
Interior is sweet. It's chic and clean.
When you go to an authentic Korean BBQ restaurant, I highly recommend bringing an extra clothes with you. Because you will smell like BBQ smoke for next few days. I usually change into a new clothes after a meal and place smoke-infused clothes in a airtight plastic bag. Oh and don't forget to roll down your car windows and wash your hair immediately.
But this place seems to have a nice air ventilation system so I feel good. It won't freak out 'Beginner-Korean-Food-Eaters'.
I call up my trusty Korean girlfriends for lunch. And a few hours later, we are all gathered up at iGrill table. Of course we ordered a bottle of Korean soju. (Soju at lunch? No problem.)
Menu is somewhat foreign to us….but we ordered what sounded familiar.
Bulgogi, (literally means 'fire meat' ) is one of Korea's most popular beef dishes that is made from thinly sliced sirloin marinated in a mixture of soy sauce, sesame oil, black pepper, garlic, onions, ginger, and sugar for two to four hours to enhance the flavor and its tenderization. My mom adds grated asian pear to tenderize the heck out the meat. Ok, enough of my inner korean talking….
Their Bulgogi is actually very good. Very tender and flavorful. I give it two thumbs up.
Little side dishes called 'Ban-chan' are delicious as well. They serve 3 different sauces to dip. Koreans usually dip the meat in very pungent fermented soy bean paste and eat with thinly sliced raw garlic…but that's for 'Advanced-Korean-Food-Eaters' because it could be overwhelming.
These 3 sauces they serve at iGrill are good enough for the beginners!
Let's talk Kimchi. Koreans say "kimchi" instead of "cheese" when getting their pictures taken. The reddish fermented cabbage dish- fermented for days or even months-is considered one of the healthiest food. Don't ask me if i know how to make it…because i don't. It's almost like an art to make good Kimchi. It needs this special magic on the fingers of person who makes it.
I am actually very impressed with iGrill's Kimchi……it's made in-house! Wow. Shame on me if non-korean can make kimchi this good…..Can I have another serving of that please? Nothing better than kimchi over just cooked fluffy steaming white rice….mmmmmmmm I'm salivating.
Make sure you try Kimchi-Sea food pancake. It's got 4 korean girls approvals. We had to have second order of that. Thin, delicate yet packed with flavor. It tasted just like the ones back home.
Bibimbab (literally means "mixed rice"),  a bowl of warm white rice topped with 'namul' sautéed and seasoned vegetables and gochujang (red chili paste) topped with fried egg is served in a hot stone-pot. It's super hot so be careful. I wish there are more Korean vegetables on it but I understand it could be hard to get ingredients in Santa Barbara.
Korean girls can eat. We don't just coyly pick on salad…we can eat more than most men. After 5 rounds of all you can eat meat BBQ and soju, we are off to get frozen yogurt. Ha, beat that!
If you are 'Advanced' korean food eater or up for a challenge, I will take you a real deal in Korea town. But this place definitely deserves two thumbs up for 'Beginner' Korean food eaters. And their Kimchi, I approve! They just need to play some K-pop to complete the experience. 🙂
Mashigae Dsaeyo! (Bon appetite in Korean)