Santa Barbara Sentinel June 14 2013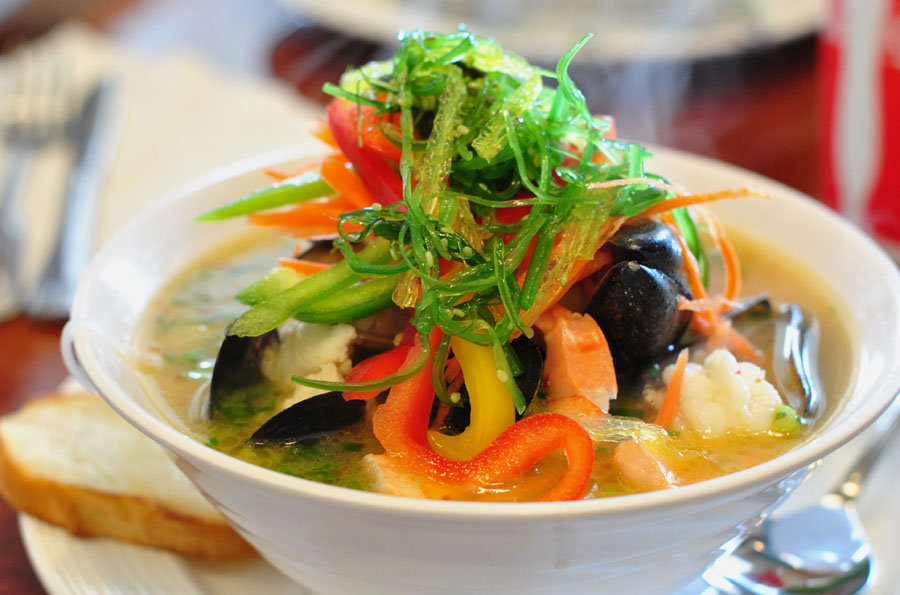 At some point of my life, I wanted to be a fisherwoman. Then, one trip to deep sea fishing where I turned evil 'GREEN' from the start, made me hold that thought.
But the idea of ocean, waves, edible yummy creatures underneath, salt-air-tangled-hair, wind…..edible yummy things underneath………still makes me fantasize being on a fishing boat.
 When I lived in San Diego, I often go to this awesome fish market called, 'El Pescador fish market' where good looking surfers not only sell fresh fish just out of the boat, but also cook up whatever fish you choose (I used to dab a lil lip gloss before going in.) –  grilled fish plate with rice, seafood sandwiches and insanely good clam chowder.
I've been missing a place like that here is Santa barbara, so when I heard about Nikka Fish Market & Grill where they cook fish for you, I was ecstatic with joy. I've gotta try this place.
Against my inner navigation trying to head towards harbor or shoreline, my google maps is taking me northbound towards Patterson. Ok, patterson exit….I know there is a strip mall…..nothing 'oceany' and 'fisherman' about that exit……No judgement yet, Christina. No judgement. Then there it is, a small sign says 'Nikka Fish Market & Grill' next to a DVD store. Yes, I said 'DVD store' where you can buy CDs and stuff…..Agh I'm feeling nostalgic.
I walked in, I'm pleasantly surprised. Spotless clean, there are fish nets, buoys, really cool black and white pictures of fishermen from old days hanging on the wall and fresh seafood all lined up. Ok, this is good! Real good! It's making me feel like a fisherwoman.
I walked up to the counter and ordered the charbroiled salmon (I never order salmon, ever. except for sushi salmon). This 'innocent' fish plate came with brown rice and vegetables….That was a beginning of my addiction. — " Hi, my name is Christina Enoch and I am addicted to Nikka's charbroiled salmon" —
It's cooked to a perfection. They 'butterfly' the filet so all the oily yummy skin sits in the middle of fillet making it extra juicy and oily. Mango Salsa comes with it but I like it with their parsley salad and a little bit of soy sauce. It's tastes so fresh, I don't want to cover the taste with any other condiments or sauces.
Now I have to eat this at least once a week. I am a wimp when it comes to dining by myself. So I often sometimes, bring my trusty dog, Buggie. '' Buggie, just make me look Iike I'm busy, with someone, that I'm not a loner. '' Thankfully, they have a pretty cozy outdoor sitting where I can comfortably bring my 'wing-dog' to satisfy my addiction. Good boy, buggie, good boy.
Let's talk their fish tacos. I moved from San Diego so I'm all about beer battered fish tacos. Although I think my 'blue moon' battered fish tacos are the best ever (wink wink)…….they did create a revolution – They put melted gooey cheese in between layers of tortilla! Ok, that's a taco revolution.
Hot pot comes in with delicious seafood broth and silver noodle hidden underneath. Not overly salty. That's the thing, their seafood is so fresh you don't need a lot of salting, seasoning, fancy 'infusing' or some sort……just fresh 'honest' seafood simply prepared.  Now you know where to go, next time you get a cold. Hot seafood broth will clear your sinus in no time.
Laxma (who is from Sri Ranka ) and his wife (from Japan) own this place. I love when Santa Barbara goes international and no, his wife's name is not Nikka.
They also owns, guess what, Nikka's Japanese market across the street.  – Wait there is more, they also owns Sushi terri -…..this guy knows what he is doing! I imagined someone as successful as him, telling people what to do in his gucci and rolex but he is such a humble guy. He didn't want to be the center of the attention. When I went to take photos, he wanted to make their employees 'stars'. He said they are the ones who make this place shine. That's another thing that I noticed, they have such nice employees. They seems to genuinely care for the customers. None of those superficial 'How IS IT tastING?s' ( Is it just me? I always thought it just 'IS SOUNDING' weird, but again, English is not my first language so what do I know? )
I've gotta say, their sister restaurant, Sushi Teri has the best Don Katsu Ramen in town. (I tried a lot of places in search for the best ramen. ) Sushi Teri goleta location is right next to Nikka fish market so I'm always torn between ramen noodle and fish as I pull up in the parking lot. Ramen noodle or fish?  Ramen noodle or fish?
FYI 'Very important note', Nikka shares a restroom with Sushi Teri, so you would have to walk to next door to go to a bathroom. In my case, I would go use a bathroom and walk out there with belly-full of Ramen noodle.
Their fresh fish comes in every Tuesdays and Fridays. So for those who want the freshest fish in town, go there on those days. Bring your friends, family, co-workers. If you are 'table for one~~!!", bring your 'wing-dog', sit outside, and imagine waves of cars at Trader Joe's parking lot are waves of ocean.
If you take a real close look at the picture above, you will see the guy in a grey hat in the back. That's Mr. Laxma. He didn't  want to be the center of attention, but I had to point him out. Sorry! 🙂
Mr. Laxma, keep up the good work. Keep feeding Santa Barbara good seafood. So happy we now have a casual fish joint that serves honest quality seafood. For now, I don't plan on going to a rehab for my charbroiled salmon addiction because that is one good addiction to have. Bon Appetit, Santa Barbara!