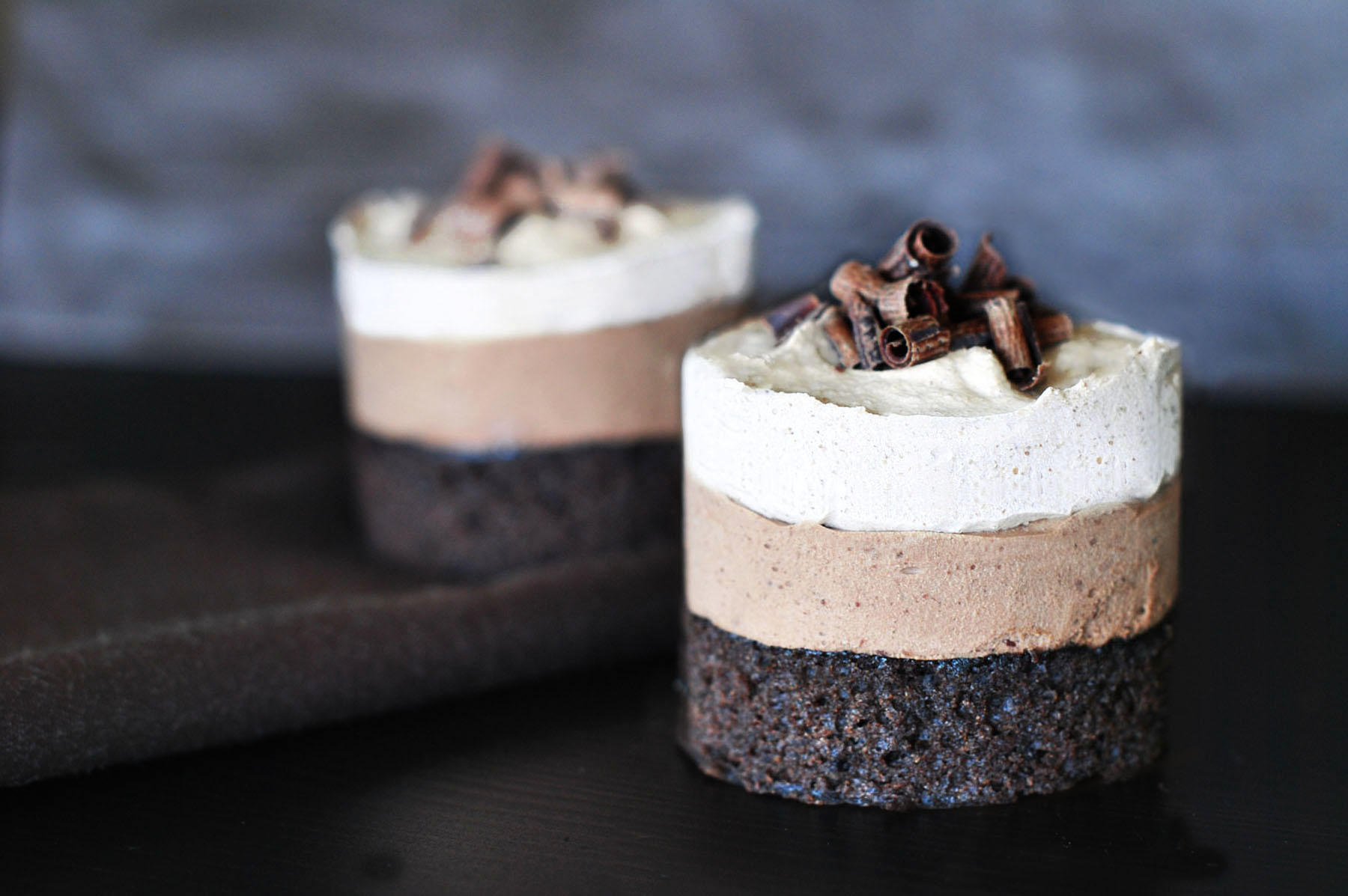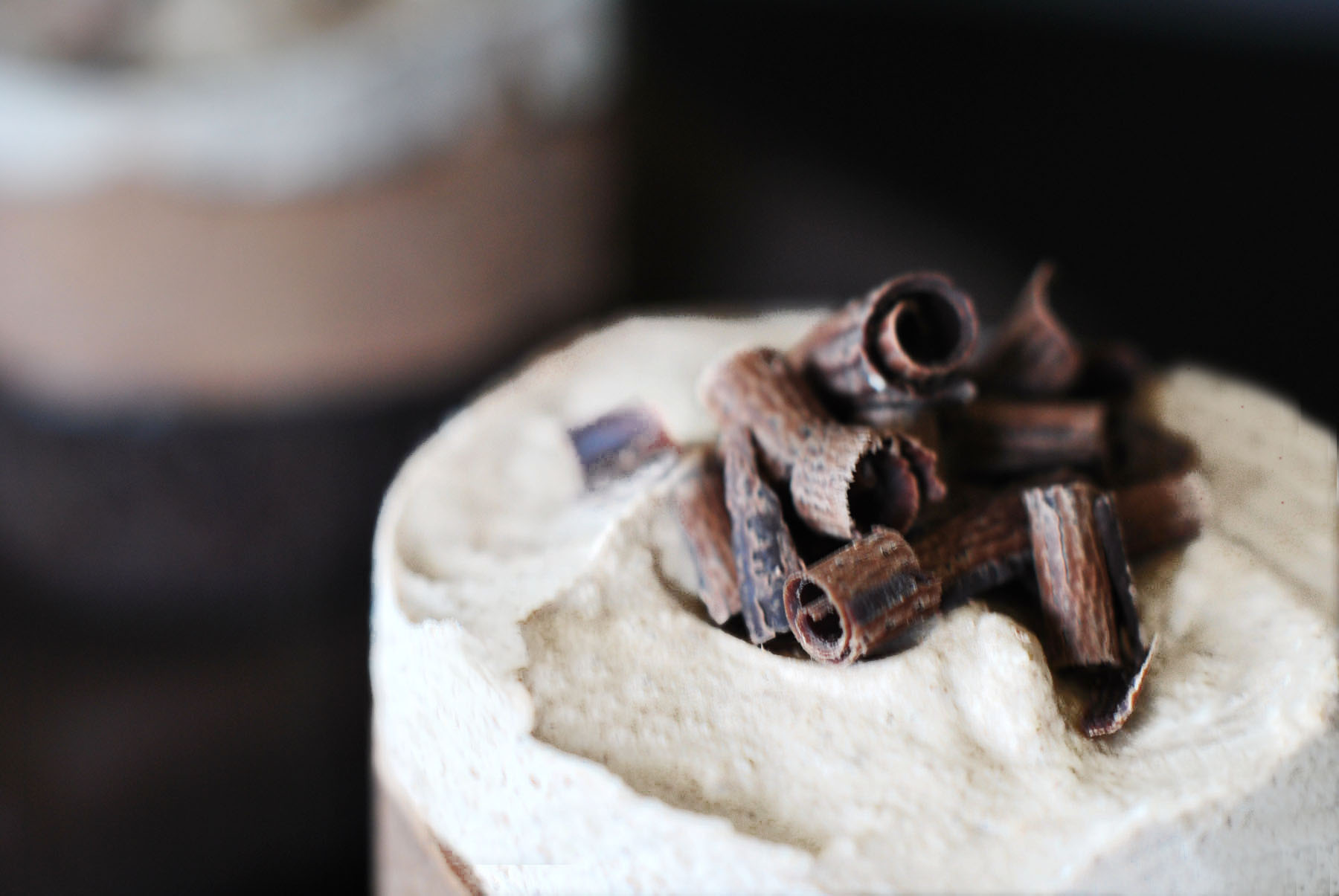 My 8pm sweet tooth kicked in. I opened the freezer. There is a lonely left-over pint of sorbet. Sorbet sounds way too healthy right now. Moist, rich and decadent chocolate – craving is real. So next day, I put my game face on to make some bad ass  chocolate dessert. I always get what I want. 😀
Don't get intimidated by it's look. It's actually pretty easy. But if you don't feel like making it into a shape like this, don't bother. Just layered it in a nice dessert cup and it will be as impressive.
Ingredients
:: For the chocolate cake ::
1 stick unsalted butter
1 1/3 cups  sugar
1/2 cup  cocoa powder
1 teaspoon expresso powder
2 large eggs, room temperature
2 oz  dark chocolate, melted
1 3/4 cups all-purpose flour
1 teaspoon baking powder
3/4 teaspoon baking soda
1/4 teaspoon  salt
1/2 cup  water
1/2 cup  milk
:: For the dark chocolate mousse ::
1 teaspoon powdered gelatin
2 tablespoons water
1/2 cup  whole milk
6 oz  good quality dark chocolate, finely chopped
1 1/4 cup heavy cream
:: For the white chocolate mousse ::
1/2 cup whole milk
6 oz  good quality white chocolate
1 teaspoon  powdered gelatin
2 tablespoons water
3/4 cup  heavy cream
Preparation
:: For the cake ::
1. Melt chocolate. (I microwave 2 sets of 30 seconds. Keep stirring in between the set) and set it a side to cool down to 'warm bath' temperature
2. In a mixer, beat butter, sugar and cocoa powder till smooth and fluffy.
3. Add one egg at a time.
4. Add melted chocolate
5. Mix all the dry ingredients in a bowl
6. Slowly add dry ingredients to the mixer and mix on a low speed.
7. Combine milk and water and microwave it for 45 seconds then slowly add to the mixture.
8. Mix till well combined. (Don't forget to scrap the side)
9. Half sheet pan (18×13), first sprayed with nonstick cooking spray and lined with parchment. Pour the batter and bake for about 15 mins at 350'F.
It should look like this….Let it cool while you make the mousse!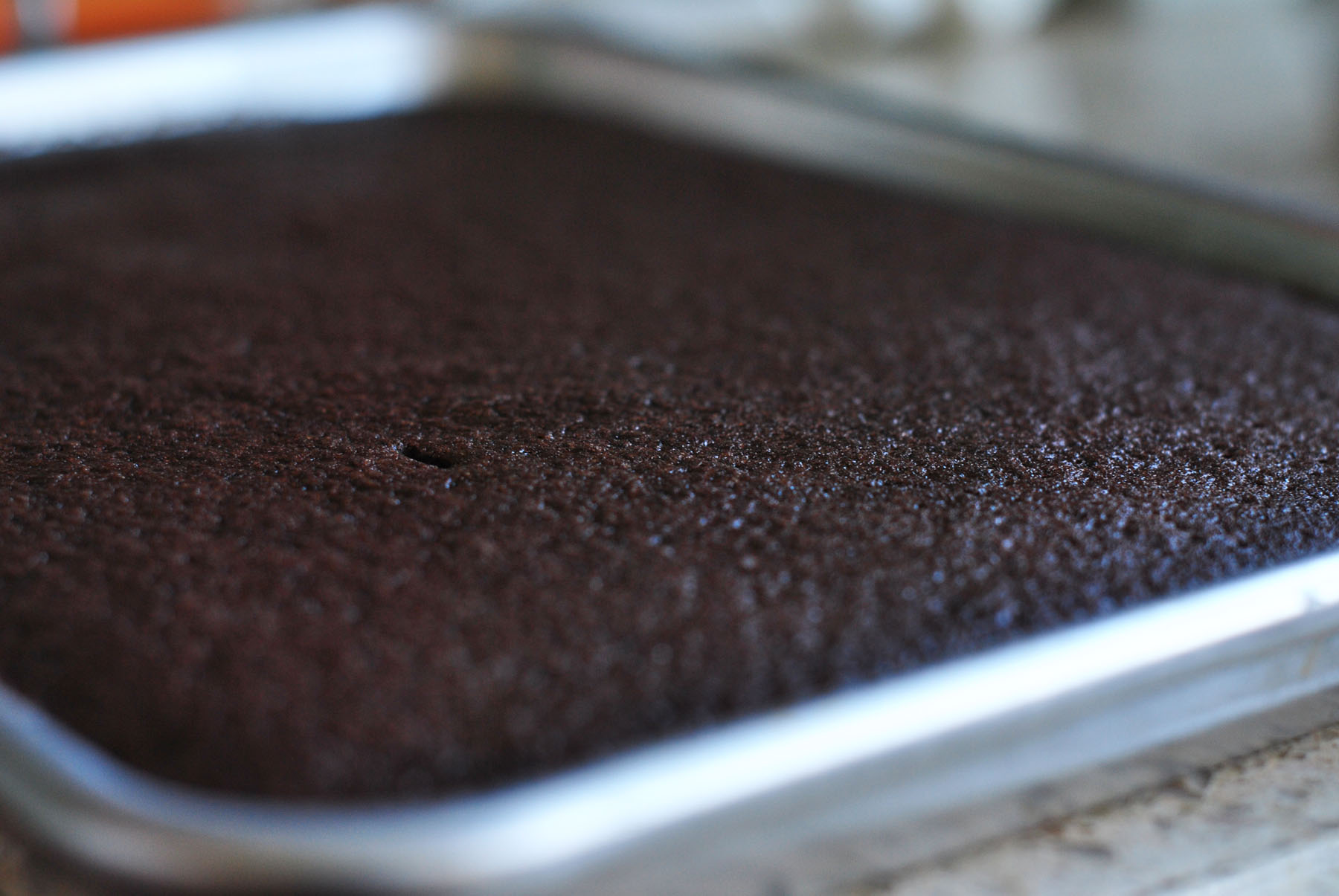 :: For the dark chocolate mousse :: 
1. Sprinkle powdered gelatin evenly over a small bowl with the water to rehydrate.
2. Heat the milk to a simmer in a small sauce pan. Don't go anywhere. Watch it so it doesn't boil all over.
3. Turn OFF the heat (This is important. When subjected to high heat, gelatin deteriorates and turns grainy) and then scrape the gelatin blob into the hot milk. Swirl the pan around until it's completely dissolved.
4. Pour this milk/gelatin concoction over the finely chopped chocolate. Let it sit for 2 mins. Then whisk. It will melt the chocolate.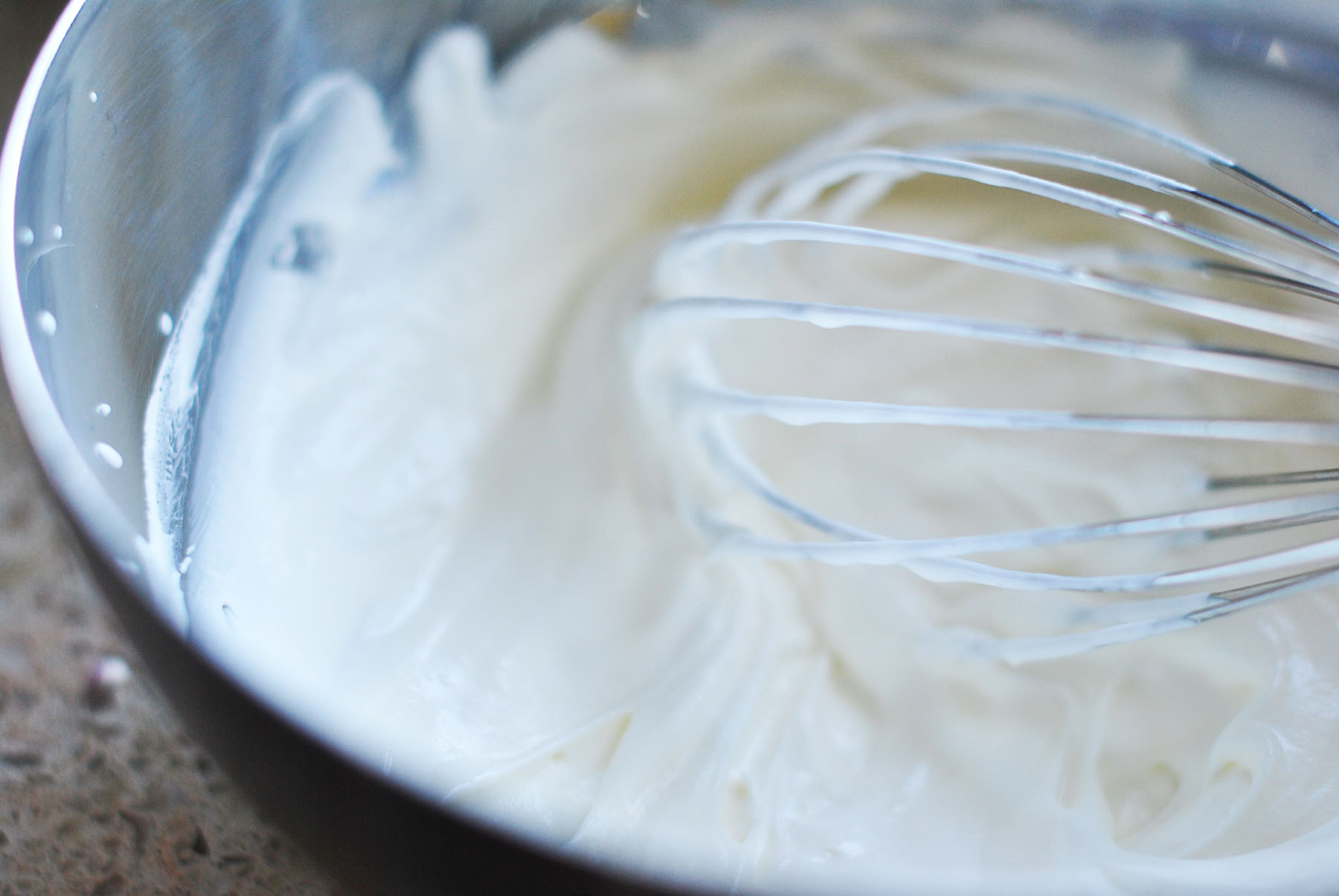 5. Whip the cream to 'Soft peak'
6. Scoop about a third of the whipped cream into the chocolate. Since the chocolate is kind of dense and heavy, this will help lighten it up. When we fold in the rest of the cream, it won't deflate as much.
:: For the white chocolate mousse ::
Do the same as dark chocolate mousse. I'm too lazy to type again. 😛
Now Assemble Time!
1. With a round cookie cutter, cut out the cake into a circle shape.
2. Make a 'Parchment Ring Mold' :  Fold parchment paper in half  (3-inch-height) and go around the circled cake you just cut out. Tape the seam.
3. Pour in dark chocolate mousse. (You can pipe it with a piping bag but I like it 'rusty' , 'didn't try too hard' look. 🙂 ) It doesn't have to be perfect! Just pour in with a small ice tea spoon and flatten the top)
4. Then put it in the freezer for 10 mins till set.
5. Take them out of the freezer, and now pour in white chocolate mousse.
6. Done! Just keep it in the freezer for a few hours. (Cover it with plastic wrap or foil. So it doesn't smell like…frozen chicken, frozen marinara sauce or frozen dried bonito-yup it's dried fish!!….) When it's ready, peel off the parchment paper and let it thaw in the refrigerator till serve.