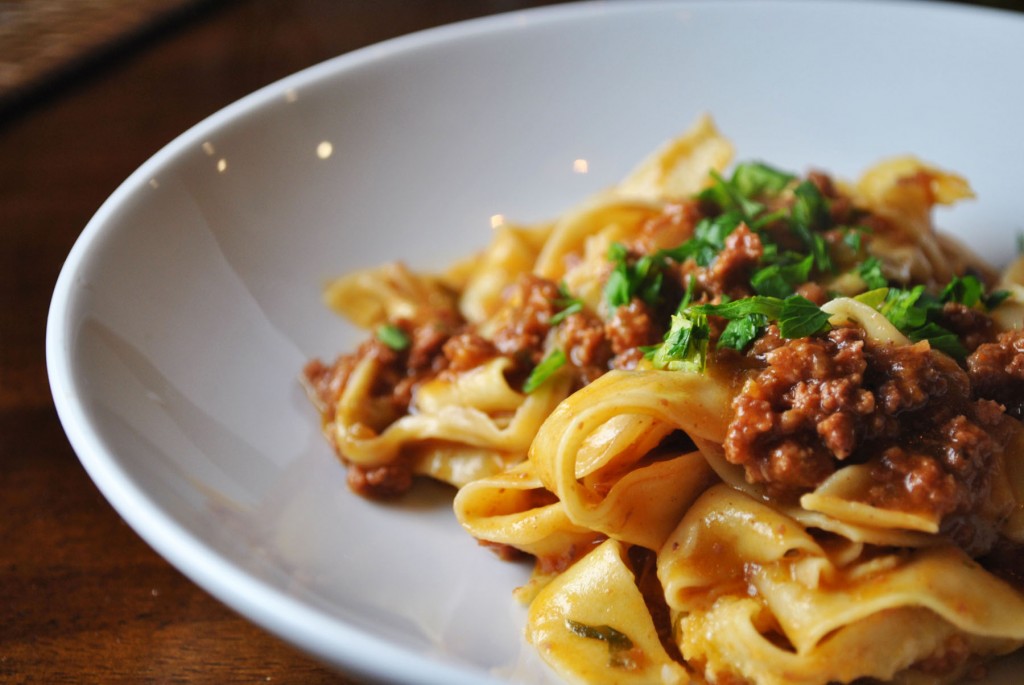 My chef friend, John Fernadez is an amazing chef who is classically trained in Italy. The other night, we had our friends over at our place for a 'Pasta night'. We made three different pastas and tiramisu….Seriously I have never had pasta like that in my life. It literally melts in your mouth! Emily (my dear friend & fellow food blogger) and I, Chef John, his friend Niki and Susan(Pastry instructor at my culinary school-my favorite class) working in the kitchen and Susan's boyfriend, fong and my husband hovering in the background…what an amazing time and food we had!!!
I don't have exact recipes for these dishes since they belong to chef John…and we didn't quite measure things-we like to eyeball the ingredients. We added everything…..you know…till it makes sense. I will briefly explain how we made them at the end of this post…so you can add everything….you know….till it makes sense to you…:)
You know one good thing about hosting a party at your place? You get to keep the left overs!  Yes, I had left over Tiramisu for lunch for next 3 days….:By the way, I microwaved pasta carbonara :::: Do not do that!! If you try to microwave it like myself to warm it up, you will end up having scrambled eggs. Warm it on a very very low heat slowly…but it's always better eat it as soon as you make it. Many many thanks to John and all my friends for helping and eating! Good times!!!!
Ok, I'm going to trace back my memory and briefly explain how we made all these. Sorry for not having exact recipes…hope this makes sense to you…:)  You can do it. Don't be afraid. Just trust your instinct and hungry stomach.
Pasta: 2 cups Four, 3  egg yolks (Make sure you use dark yolk eggs-Trader Joes has them), Make a well in center of the flour, drop in eggs, slowly incorporate flour into eggs with a fork.  Knead the dough till it becomes smooth, run it through pasta machine. (till Pretty thin. #6~8)
Brown butter sage sauce: Melt butter and cook till brown – Add sage leaves then take it off of the heat (make sure sage leaves don't burn)
Pumpkin filling: Cooked pumpkin(or pumpkin puree), ricotta cheese, salt & salt. (You can add crushed italian cookies, like amaretti) 
Carbonara: Small dice pancetta and onions, saute till brown and crispy – Add garlic – Add cooked pasta – Off the heat – Add beaten eggs and Parmigiano-Reggiano.
Bolognese: Ridiculously small tiny dice on onion, salary, carrot (You can pulse them in a food processor if you want) – Saute till all the water evaporates. (Be patient, this is where big flavors develop) – Add ground beef and cook till brown – Add tomato paste cook till brown – Add wine and cook till wine has reduced by half – Add stock or water and reduce. – Add bay leaf and thyme bundle – Add more liquid and reduce more.
Tiramisu: Layer of mascarpone mixture (water and sugar-cook till soft ball stage, whip egg yolk , gradually add sugar mixture to whipped egg, whip till it become cool enough, add whipped cream)
Layer of lady fingers or sponge cake – Pour strongly brewed coffee – Another layer of mascarpone mixture – another layer of lady fingers – Last layer of mascarpone mixture – Top with shaved chocolate.