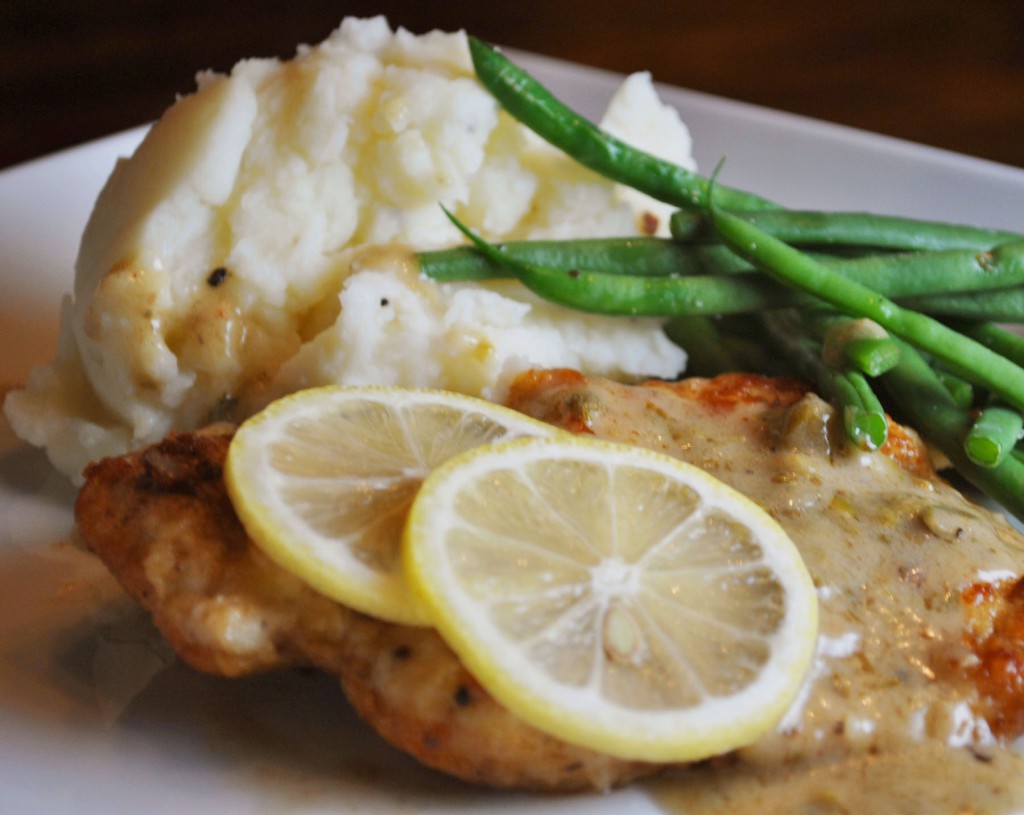 I always have capers in my pantry and at least one chicken breast in my freezer. So if I'm too lazy to go grocery shopping or cook anything else, I usually turn into making chicken piccatta. And tonight was one of those lazy night.I butterfly my one and only chicken breast turning it into 2 thinner pieces. When you pound it into 1/4 inch thickness, voilà, there you have it : 'lazy' dinner for 2!
Ingredients
1 chicken breast (I butterfly it and turn it into 2 thin pieces.)
1/4 cup brined capers, rinsed
2 teaspoon lemon juice
1/2 cup white wine
1/2 cup chicken stock
Butter and olive oil
Preparation

1. Place parchment paper on each chicken breast and pound them into 1/4 inch thickness. Season with salt and pepper. Dredge chicken in flour and shake off excess. (If you want more 'breaded' version, you can dredge the chicken in flour first, then egg wash and then Panko or any bread crumbs of your choice. I only dredged it in flour for a lighter version.)

2. Over high heat with olive oil and butter, cook the chicken till golden brown each side.
3. Take them off of the pan and set aside.
4. On the same pan, melt more butter, add capers and cook till soft.
5. Deglaze the pan with white wine.
6. Add chicken stock and lemon juice. Bring to simmer, scraping up brown bits from the pan for extra flavor.

7. Turn off the heat, add 2 Tablespoon of butter and swirl to combine
8. You can serve it with meshed potato, creamy fettucini or leftover risotto 🙂
Note: Piccata means 'Tart' 'Zesty' so it is supposed to be tart but if you don't like it too tart, here is my trick: Sift 2 teaspoon of flour into a fine mesh tea strainer directly into the pan, whisk it and cook for a mins or so. It will help balance out the tartness.