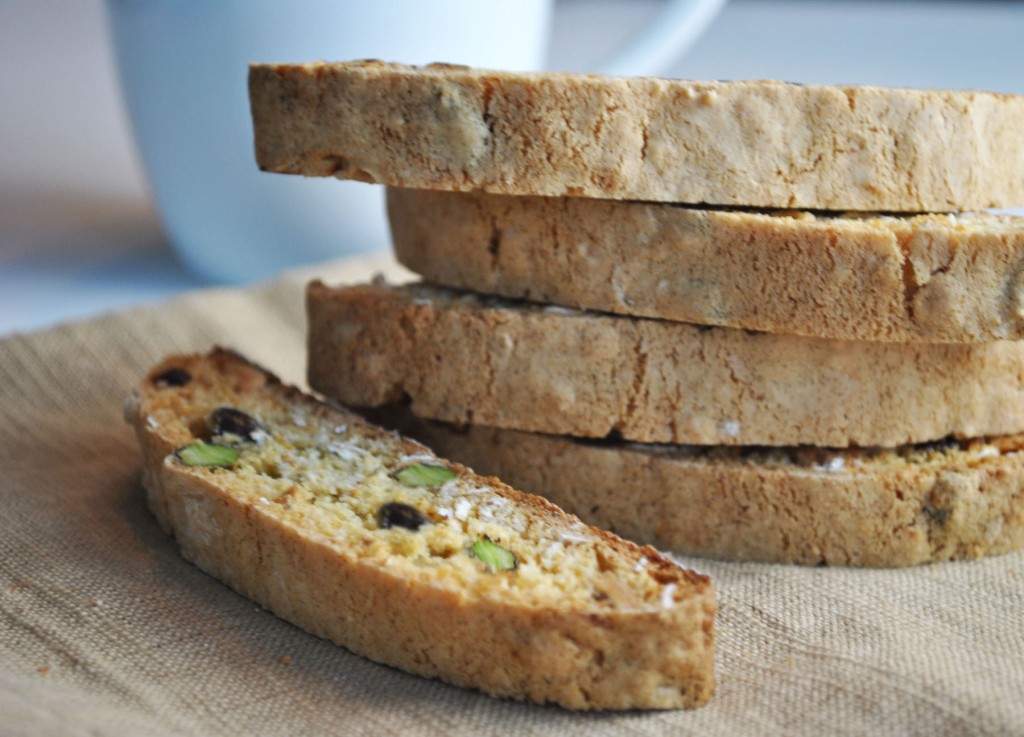 I sometimes go on a what I call 'biscotti phase'. I obsessively make 3~4 batches of different kinds a week. I love biscotti- I feel more grown up. Something about dipping it in coffee, mocha, dessert wine…I feel sophisticated.
This one has pistachio, dried cherry, oat, lemon/orange zest. Super flavorful and delicious. Biscotti translate as  'twice baked'. It's baked first as a log then you cut them into slices and goes back in the oven again till dried out and become crispy. Making them is really fun. So next time, try making biscotti instead of regular cookies. Make yourself  a nice cup of coffee, forget the 'to-do' list for a moment, turn on that Pandora and have a lovely 'ME' time….Enjoy! xoxo
Ingredients
1 3/4 cups unbleached all-purpose flour
1 cup sugar
1/2 cup old-fashioned oats
1 tsp. baking powder
1/2 tsp. baking soda
1/2 tsp. kosher salt
2 large eggs
3 Tbsp. vegetable oil
1 Tbsp. orange zest
2 tsp. lemon zest
1 1/2 tsp. vanilla extract
1/2 tsp. almond extract
3/4 cup dried cherries
3/4 cup unsalted, shelled pistachios
Preparation
1. Combine dry ingredients in a mixer.
2. Combine wet ingredients in a bowl.
3.  Add wet mixture to dry mixture; beat on low speed until combined.
4. Fold in cherries and pistachios

5. On lightly floured surface; divide in half. Shape each dough half into a 16″-long log. Patted down both sides of the log (so when you cut them it will have lovely arch shape)

6. Bake 350F for about 15 mins.

7. Take the log out, let it cool a little. Using a serrated knife, cut each strip .

8. Reduce oven to 250F, bake the cut slices until crisp.