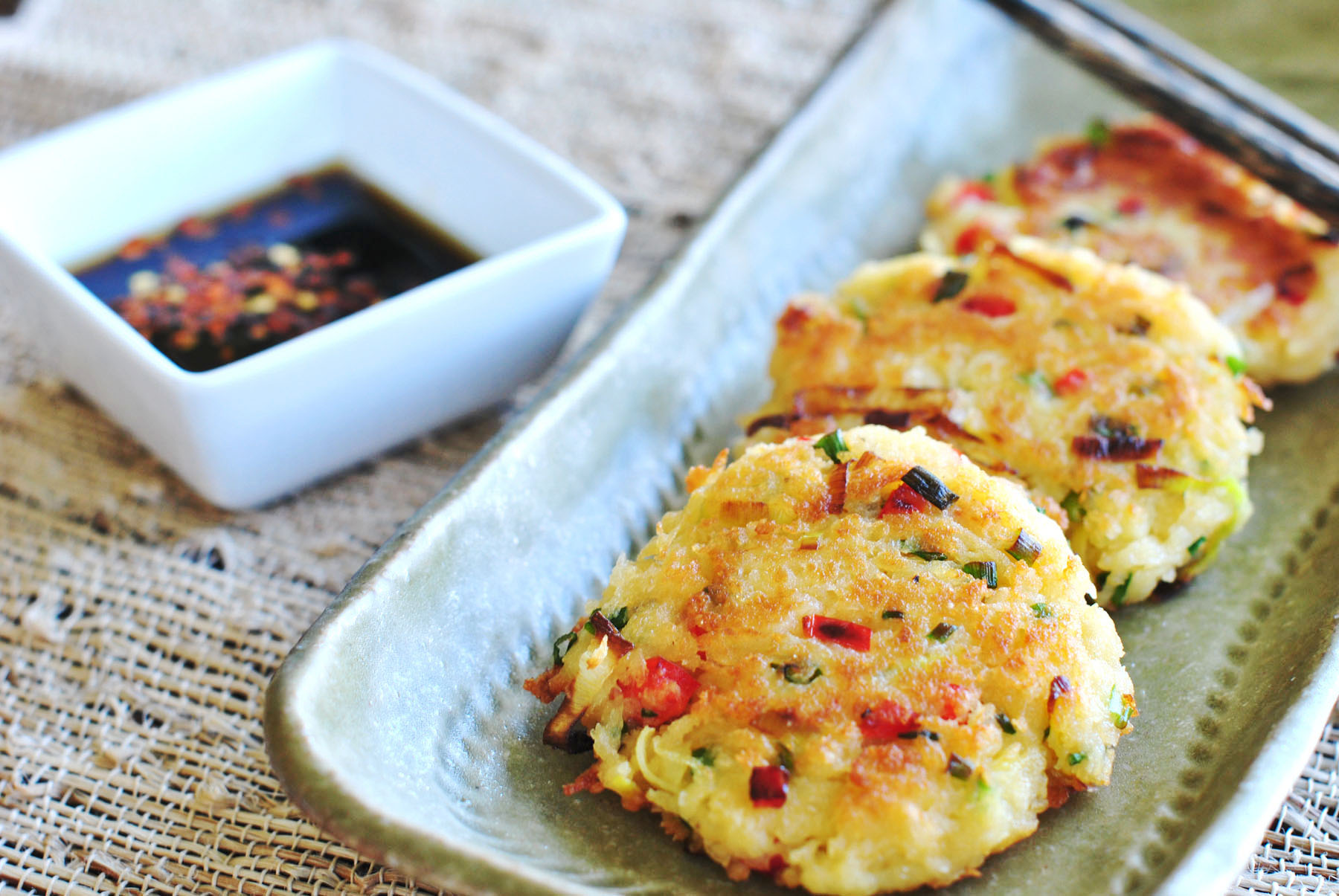 I'm back!!!! Yes, I am still alive and well. We just redid our kitchen cabinet so our kitchen was all torn apart. At some point, I did not even have an access to the refrigerator. Agh, the joy of remodeling. But it's all done and feels real good to be back. Hope some of you missed me. 🙂
With the kitchen all torn apart, the only food I could make was simple and easy to dishes. We were invited to a dinner party a few weeks ago and I made these at the tiny corner of the kitchen counter while our trusty worker, Santos measured things around the kitchen. Many people at the party asked for the recipe so I decided to share with you.  It makes great appetizer for a party or after-school snack. In my case, after-work snack for my husband. He really appreciates a little snack waiting for him when he gets home. Easily reheated too. Hope you guys enjoy!
Ingredients
(Makes 5~6 small pancakes)
1 large Yukon gold potato (waxy ones, not Russet potatoes that you use for baked potatoes)
Half of lemon
Half of red pepper
1 bunch chives
2 teaspoon olive oil
1 egg
1 leek
1 small garlic
1 cup panko crumbs (Japanese bread crumbs)
Salt and pepper to taste
For dipping sauce: 2 Tablespoon soy sauce, 2 teaspoon rice vinegar, 1 teaspoon sesame oil, 1 teaspoon red chili flakes
Preparation
1. Peel the potato and grate it using box grater (Use fine grates : it will cook faster)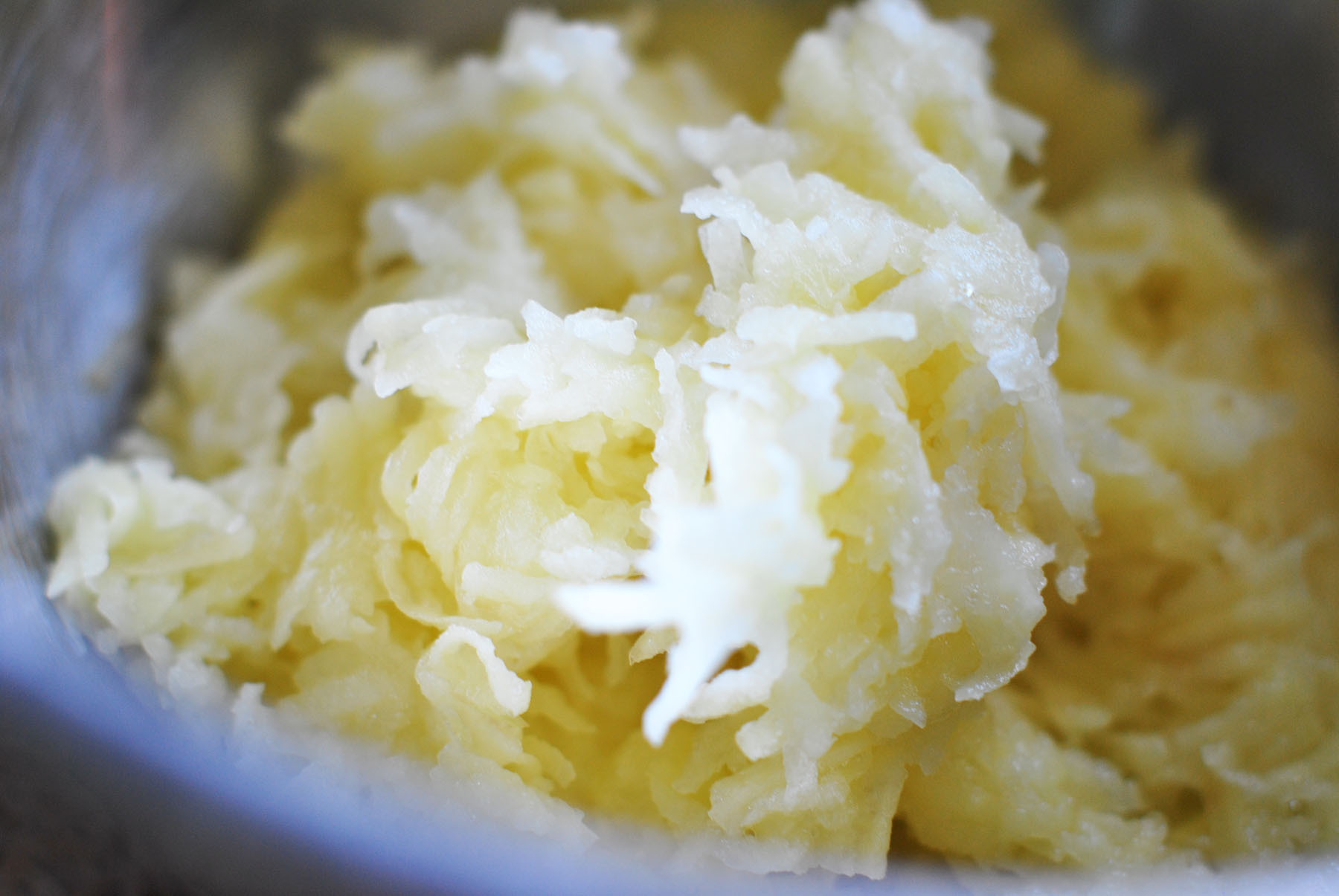 2. Squeeze moisture out of grated potato.
3. Add lemon juice right away. (It will help from oxidizing, turning it to brown)
3. Thinly slice leek then wash and strain.
4. Small dice red pepper
5. Small dice chives
6. Mix all the ingredients above in a bowl.
7. Add egg, olive oil, panko, garlic(grated) and mix it with a fork. (Be gentle, if you mix it too much it will become dense pancake. Mixing lightly with a fork will make light and airy pancakes)
8. Salt and pepper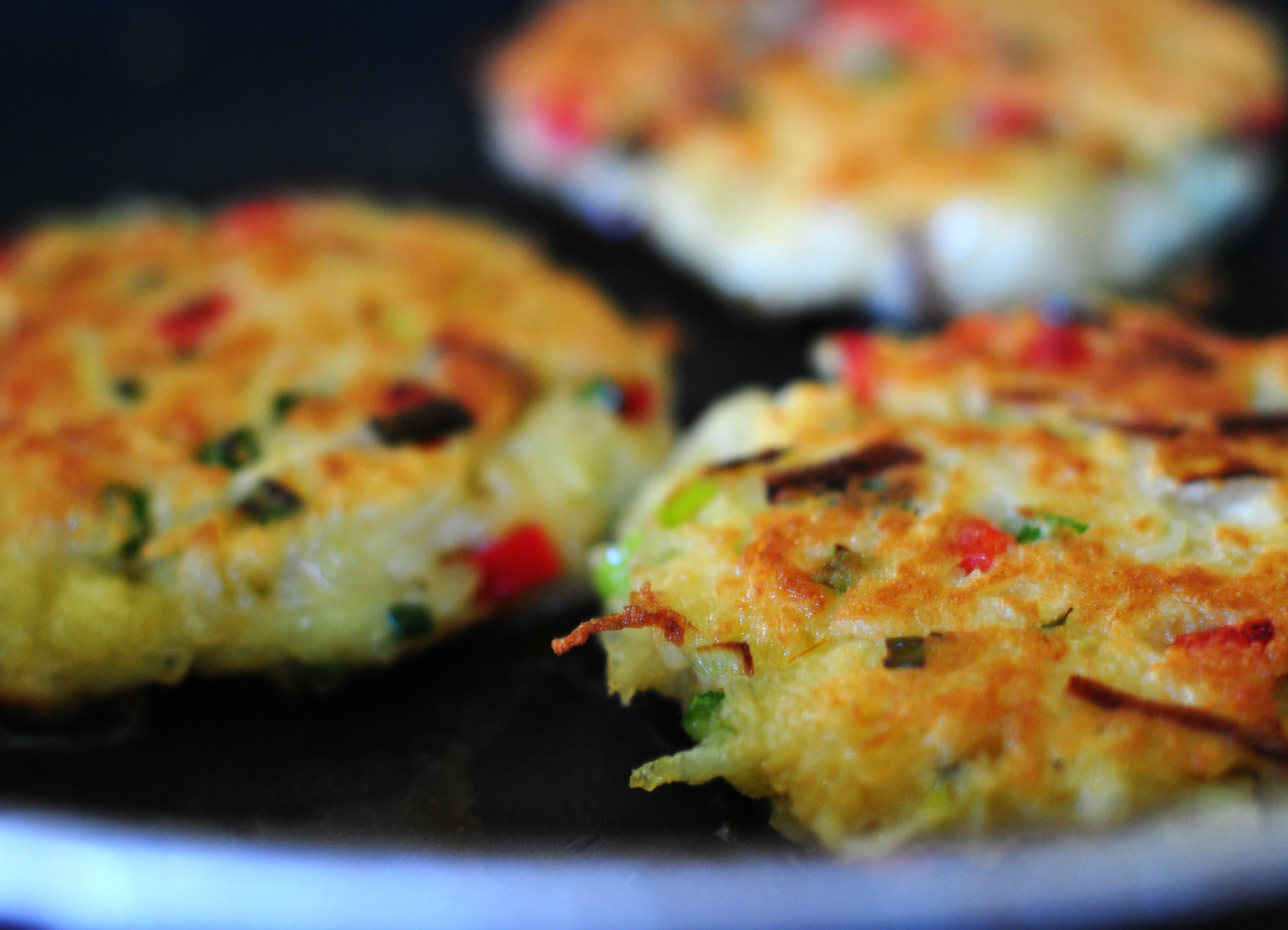 9. Heat grape seed oil in non-stick pan.  (Pan has to be HOT enough!)
10. Shape the potato batter into a small round and cook it till golden brown.
11. Enjoy with dipping sauce!