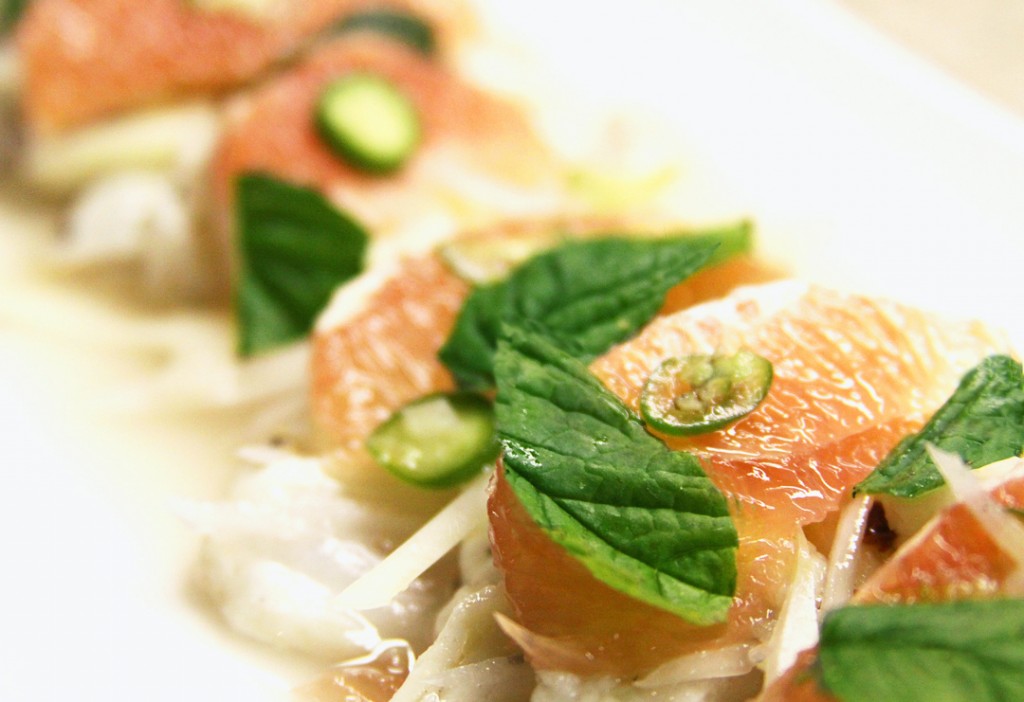 I grew up in a small fishing town so I love seafood and I like them raw. Ceviche  is seafood "cooked" by the acid of citrus, in this case grapefruit and lime juice. It is a dish of South American origin but I decided to make my own version of it. Perfect appetizer for a warm day like today….and super easy to make it. Just marinate the fish, put it in the refrigerator and walk away. 🙂
Ingredient
1/2 lb Sashimi grade Halibut (or any kind of sashimi grade white fish)
2 Tbs fresh lime juice
2 Tbs fresh grapefruit juice
1  Tbs Japanese Ponzu sauce
1 ts soy sauce
1/2 ts fish sauce
Garnish : Grapefruit wedges, Thinly sliced jalapenos, mint leaves
Preparation
1. Slice the fish thinly (thiner than sashimi)
2. Make a mixture of lime, grapefruit juice, Ponzu sauce, soy sauce & fish sauce. Place the fish into the mixture and marinade at least 2 hours till color of fish becomes opaque in the refrigerator.
3. Salt & pepper if needed
4. Place a layer the fish on a plate, drizzle over leftover marinate liquid.
5. Garnish with sliced grapefruit, mint leaves and thinly sliced jalapeno.